PHARMACEUTICS
PHARMACEUTICAL CHEMISTRY
PHARMACOLOGY
PHARMACOGNOSY
PHARMACEUTICS
Basic principles in designing and formulating& Evaluation of the Pharmaceutical dosage forms, Microbiological studied under pharmaceutics department. Laboratories are furnished with all necessary equipment's required for study. Department is engaged in overall development of students by engaging Industrial visit.
FACILITY
Sieve Shaker
Melting point apparatus
Bulk Density apparatus
Hot air oven
Infra red moisture balance (dulux model)
Heating mantle
Ph-Meter
Distillation Unit BTI-59
Hot Plate
Double Distillation Assembly
Suction Pump
Refrigerator
Digital Balance
Digital Colny Counter
Microscope
Ultrasonicator
Antibiotic Zone Reader
Humidity Chamber
Voltage Stabilizer
Bottle filling machine
Bottle sealing machine
Sterility test apparatus
UV Cabinet
Ampoule Filling Machine
Ampoule Washing Machine
Clarity test apparatus
Autoclave
Mechanical Stirrer
Aseptic cabinet
Incubator waterbath Shaker
Hot air oven
Autoclave
Vaccum pump
PH Meter
Centrifuge
Homogeniser
Capsul filling machine
Coating Pan
Tube filling
Tablet Hardness tester
Pfizer type hardness tester
Collapsile tube crimping
Dissolution Jar Test Apparatus
Frability test apparatus
Tablet disintigration test apparatus
Tray dryer
All purpose machine
Double cone blender
Tincture press
Multimill
Vibroshifter
Mini rotory tablet press
Capsule Counter
Digital Balance
Ball Mill
Rapid Mixture granulator
Tablet Punching machine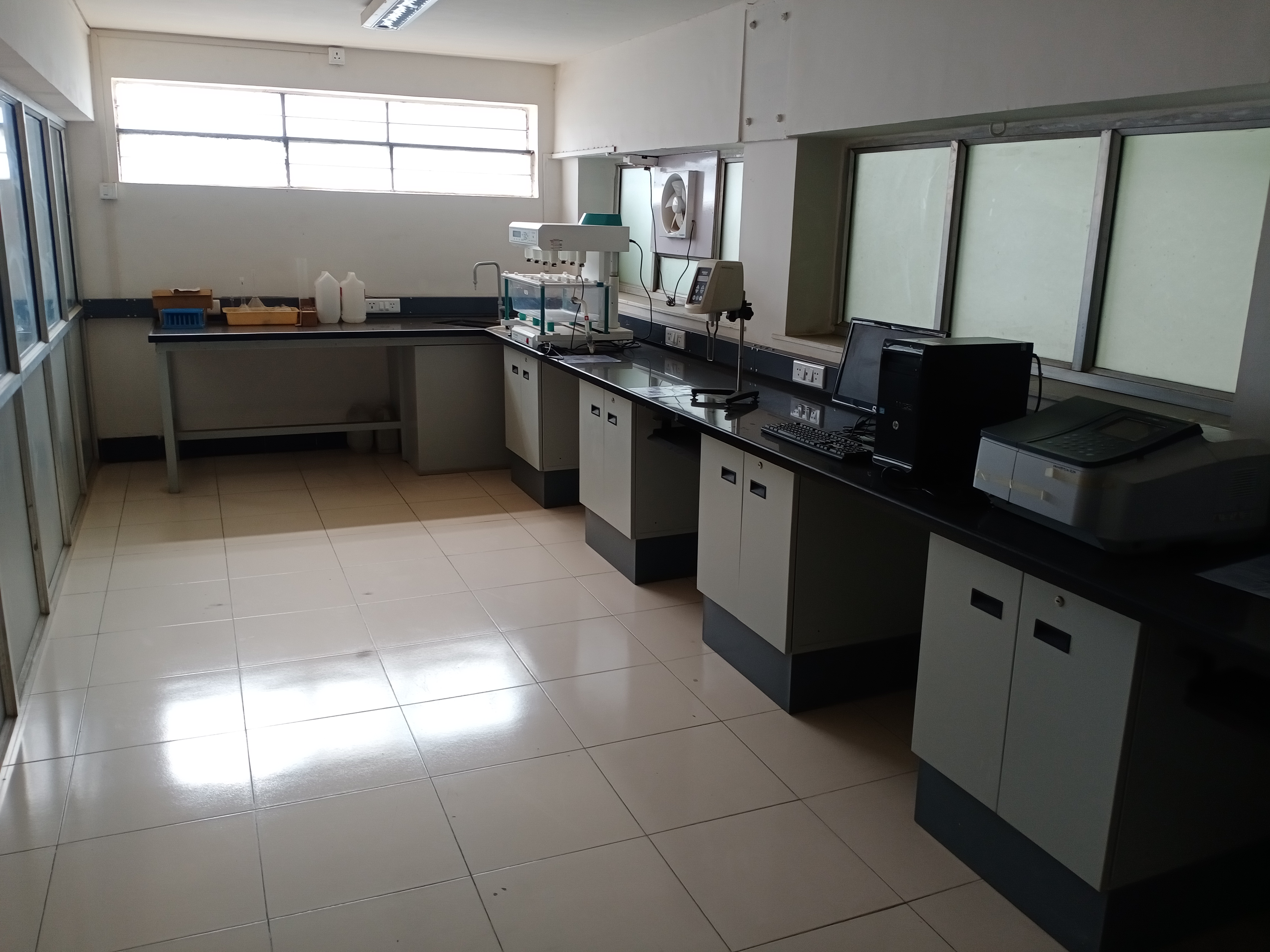 PHARMACEUTICAL CHEMISTRY
Pharmaceutical chemistry are disciplines at the intersection of chemistry, especially synthetic Organic chemistry, Inorganic chemistry and various other biological specialties, where it is involved with design, and development for market of pharmaceutical agents (drugs).
FACILITIES
Muffle furnace
Suction Pump
Hot plate
Ultrasonicator
Hot air oven
Microwave oven
Refrigerator 120 L
ABC 6 KG Fire Extingushier
Heating Mantle
Fume Chamber
Oil free vaccum pump
Digital balance
Magnetic stirrer
Mechanical Stirrer
Autoclave verticle
Voltage stabiliser
Ion Exchanger
Distillation unit
Microwave oven
Digital Calorimeter
Digital Melting Point Apparatus
Heating Mantle
Hot plate
Hot air oven
Presion Melting point
Whirpool Refrigerator
Magnetic Stirrer
Analytical balance demonstration
Digital Potentiometer
Auto digital conductivity meter
Water bath thermostatic
Digital Nephalo turbimeter
Digital flurometer
Digital flame Photometer
Research Polariometer
Abbes Refractometer
Shimadzu Spectrometer
Brookfield viscometer
Dissolution tester
pH meter cool pH 201
Digital Photo calorimeter
PHARMACOLOGY
Pharmacology is one of the important subjects which deal with detailed study of drugs particularly their actions on living beings, organs or tissues.
It includes allied topics like Pharmacodynamics, Pharmacokinetics, Therapeutics, Toxicology, Chemotherapy, Thus, Pharmacology is an important subject which connects pharmacy to medical sciences.
FACILITIES
Microscope with oil immersion
Compound Microscope
pH meter cool pH 201
Hutchinsons Spirometer
Incinerator
Centrifuge Machine Dulux
Phase contract microscope
Digital Balance
Mechanical Stirrer
Stethoscope
Spingomanometer
Adult weighing balance
Convulsimeter
Refrigerated Centrifuge
Pole climbing apparatus
Eddys hot plate
Rotarod Apparatus
Digital photoactophotometer
Shrington rotating drum
Samsung LED TV
Stimulator
Magnetic Stirrer
Organ bath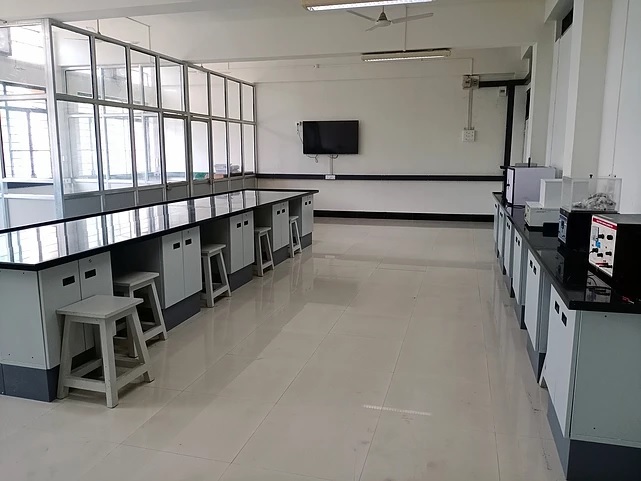 PHARMACOGNOSY
Pharmacognostic study of crude drugs by morphology, microscopic and chemical test. Evaluation of curde drugs by Physicochemical Parameters, Chromatographic techniques. Isolation of phytocostituents by various methods.
Formulation and evaluation of Ayurvedic, herbal formulations and herbal cosmetics. Characterization of Pure natural compounds.
FACILITIES
Autoclave vertical
Suction Pump
Heating Mantle
pH meter cool pH 201
Seniar Medical Microscope
Projection Microscope
Water bath thermostatic
Advanced binocular microscope
Mixer grinder
BTI 3 air laminar air flow
Infra red moisture balance
Colony counter
Whirpool Refrigerator
Autoclave laboratory
Micro centrifuge
Gel electrophorises
Antibiotic zone reader
Muffle furnace
Hot Air Oven
Ultraviolet cabinate
All glass single Distillation unit with borosilicate
Cutter Mill
Dissecting Microscope
Digital Photocalorimeter
Digital balance
Rotory Shaker
Microtome Rotory
Sterlity testing apparatus
BOD Incubataor
Useful Menus

Electoral Literacy Club
Contact Details

Hirabai Haridas Vidyanagari, Amrutdham,
Panchavati, Nashik 422003, India,
Pin: 422201
Call Us: (0253) 2510262, 2517003
principal-bpharmacy@kkwagh.edu.in
Copyright ©kkwagh.edu.in 2020